The Horseracing Industry: Drugs, Deception, and Death
They weigh at least 1,000 pounds, have legs that are supported by ankles the size of a human's, and are forced to run around dirt tracks at speeds of more than 30 miles per hour while carrying people on their backs.1 Racehorses are the victims of a multibillion-dollar industry that is rife with drug abuse, injuries, and race fixing, and many horses' careers end in slaughterhouses.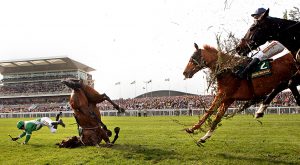 Siena's Palio, the most famous of several historic horse races held in Italy, takes place twice a year – on July 2 and Aug 16. Tens of thousands of spectators watch bareback jockeys hurtle three times around the dirt-covered, cobblestone Piazza del Campo. Since 1970 around 50 horses have died after falling, colliding or being trampled in the breakneck race, which normally lasts less than two minutes.
Do You know that every year approximately 100000 live, healthy horses are exported from Poland, Italy, France and the even USA to be slaughtered?
The Royal For Charity Foundation collects money to buy the horses and save them from such death as transports, drugs industry, races etc.
Horses must pass rehabilitation. They are often exhausted, wary.
Our goal is to create the house for this beautiful and wise animals.
Part of the rescued horses can act as horses for rehabilitation for children with disabilities.
There is nothing more beautiful than giving a second life, and in return also receive new life.
Is there anything more beautiful than observation of a child, which begins its new way of life thanks to a magnificentbeautiful animals.
Help us to build the open house for all.